Artist Bio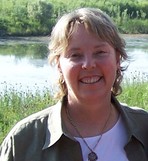 Growing up in the Rocky Mountains and the Pacific Northwest, Gale has a strong affinity with the beauty of nature. Her artwork focuses primarily on exploring the relationship that people have with their environment and the beauty of outdoors.
Gale is most comfortable working in watercolor and pastel, and has taken workshops from Randy Meador, Soon Warren, and Jan Thompson. She is also works in a variety of other media, including photography. Two years of commercial art training in college, combined with a thirty-year career in the financial services industry, enhance Gale's ability to expand beyond the world of fine art and illustration into the world of commercial advertising, graphic design, and business marketing.
As President of the
Chisholm Trail Art Association
and member of the Big Country Art League, Gale currently is concentrating on promoting the visual arts in Montague County and in painting and photographing the Texas countryside where she has lived for over thirty years. She also administers a facebook group called Chisholm Trail Art Group, as well as does the websites and marketing for the Nocona Chamber of Commerce and the Nocona EDC. as well as many local businesses, museums, and organizations. Her photography can be seen at the
Red River Station Inn Gift Shop
in Nocona and in private homes throughout the U.S., - as well as in her
online gallery
. Gale also has work on permanent exhibit in Rotterdam, Holland at the Terbregge City Hall.
Gale has co-authored (with Treva Tindol Dawson) a pictorial history book titled "Memories Along the Chisholm Trail" and a book of poetry titled "Reflections in Two Voices," both of which are available through Amazon.com and BarnesAndNoble..com, as well as in the
Tales 'N' Trails Museum
and the
Red River Station Inn Gift Shop
(both in Nocona). She currently is at work on several other books, as well as doing illustrations and cover designs for books written by other authors. Gale also serves on the Board of Directors and volunteers at the Tales 'N' Trails Museum in Nocona - and serves as Treasurer for the Montague County Historical Commission, helping to preserve Montague County's unique and vibrant history.
---